Friends, SFSU Colleagues Remember Long-Time CFA Member and Activist Michael Ritter
A knack for sharing the wisest words at the right time. A genuine and compassionate human being. An extraordinary person, counselor, and advocate.
"I wish that I had more time with him. I wish that (our friendship) was deeper," said Sheila Tully, Department of Women and Gender Studies lecturer at San Francisco State and former CFA San Francisco chapter president.
To friends and San Francisco State colleagues, Michael Ritter lived a life larger than most, one filled with joy, compassion, and care.
A life devoted to counseling his students and caring for causes that affected them. A life of activism. A life of love.
Last month, Ritter passed away while training for another open water San Francisco Bay swim from Alcatraz to raise awareness and money for scholarships for undocumented students at SF State. Ritter was 67.
For 32 years, Ritter worked at SFSU as a counselor faculty, instructor, director of Prevention Education Programs, supervisor, and mentor. Susan Chen says he was a "wonderful colleague, and above all, a tireless advocate for students and the different communities that he cared so much about."
"The years we worked together at SFSU Counseling & Psychological Services were marked by a spirit of collegiality, friendship, trust, and support for one another," said Chen, Licensed Marriage and Family Therapist (LMFT), SFSU clinical counselor faculty, and CFA Counselors Committee chair. "His positive energy brought the best out of people and allowed us to serve our students in meaningful ways to the best of our capacity."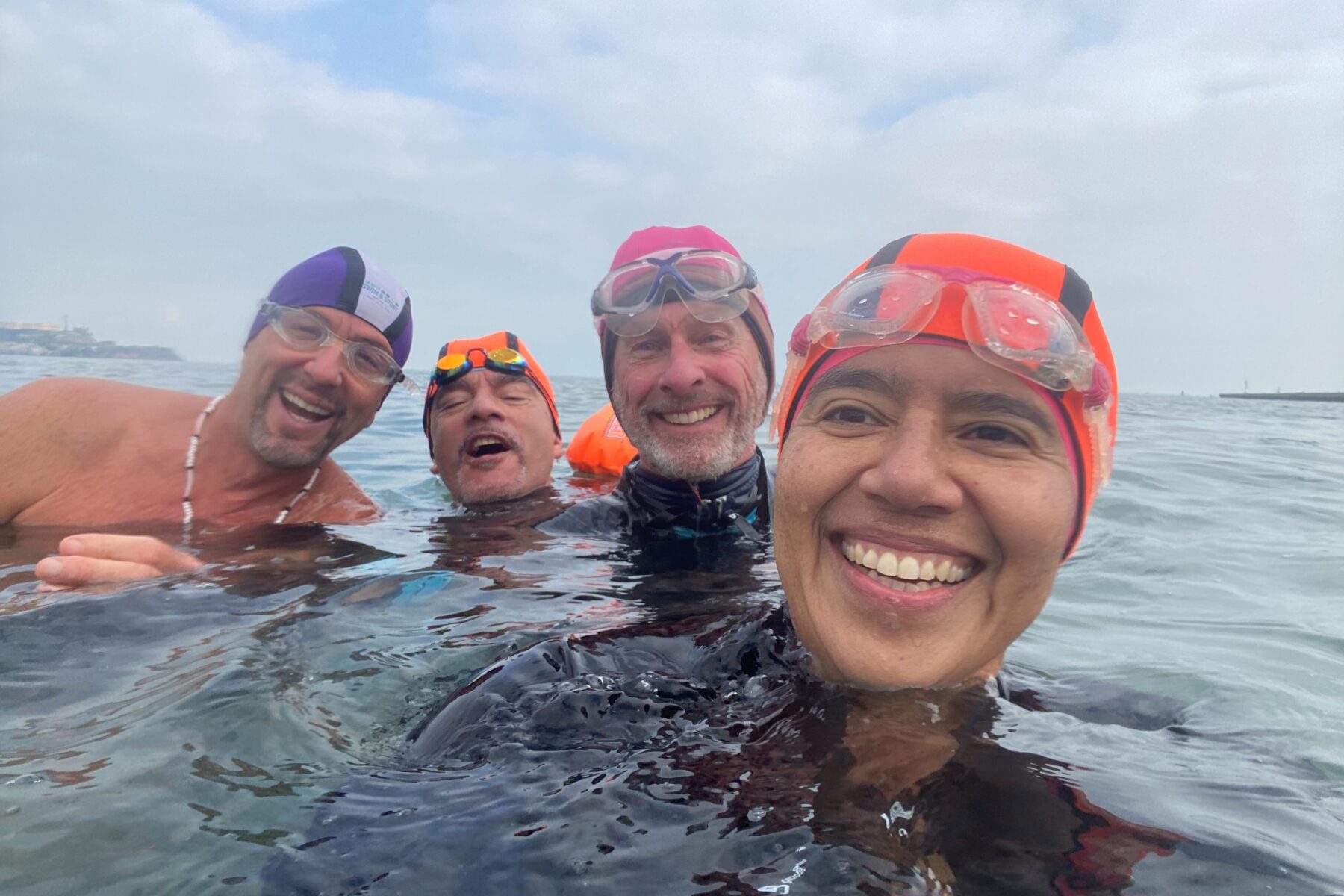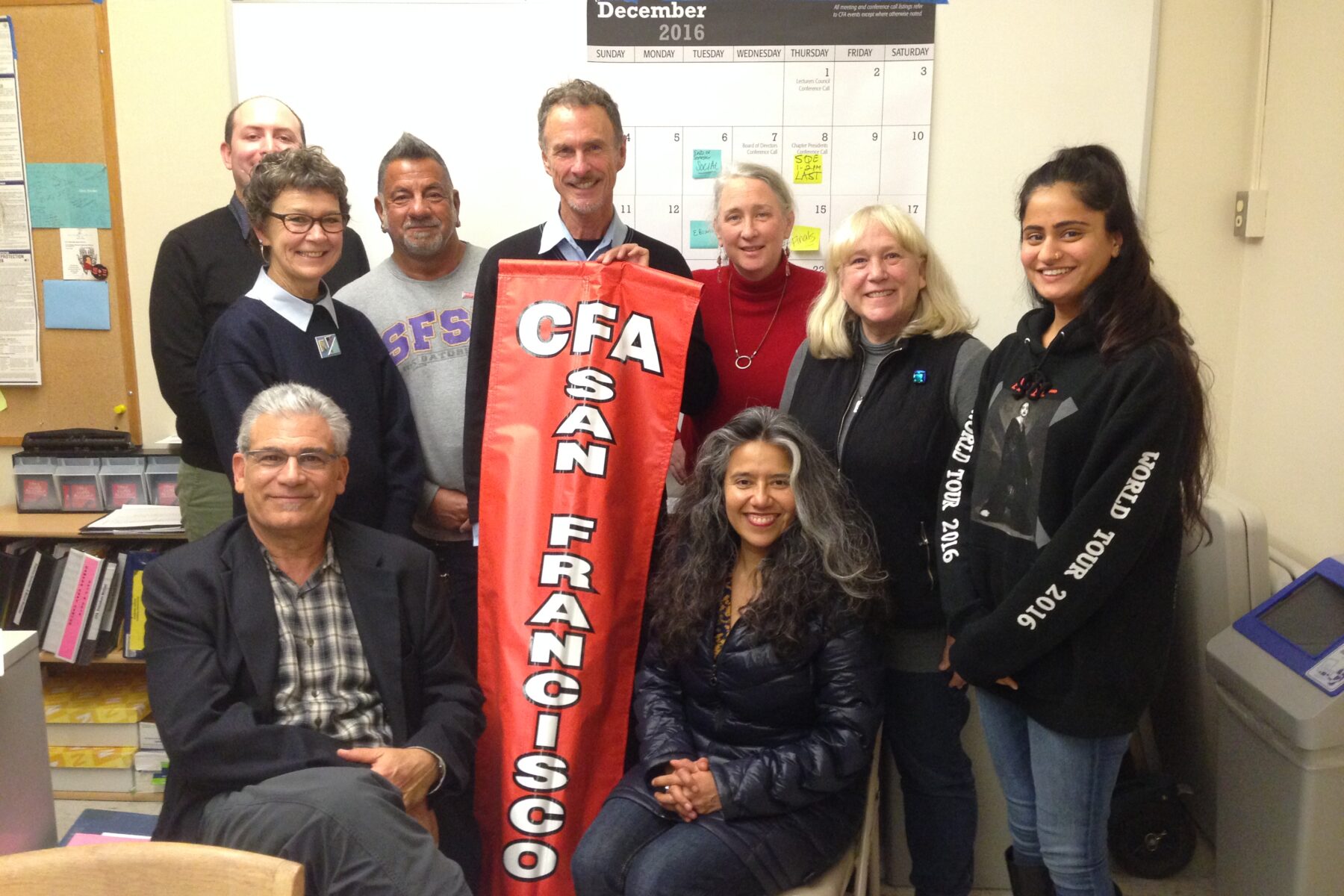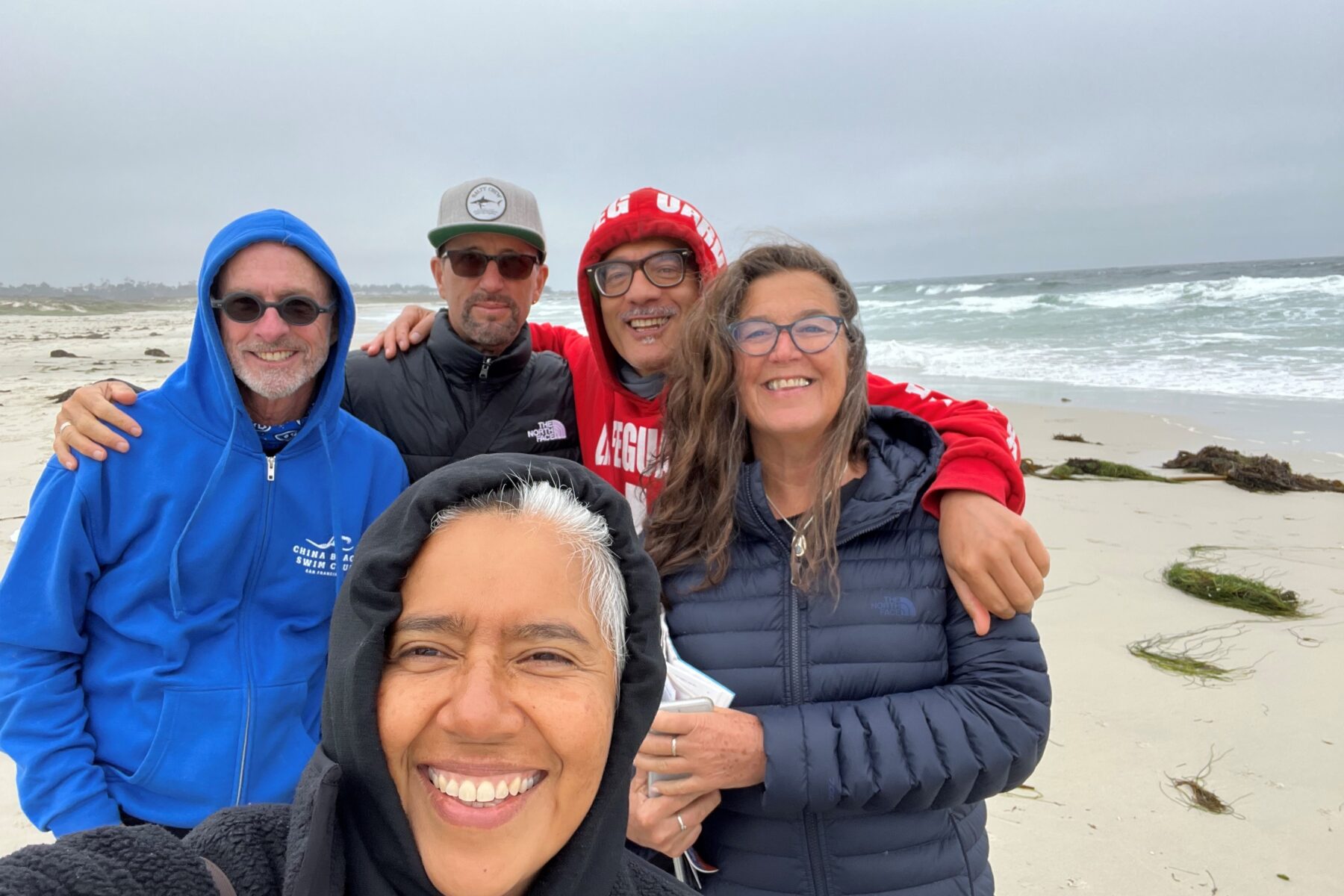 A shared love for the water.
"He was a beautiful soul with so much love for all different kinds of people," said Karla Castillo, LMFT, Licensed Professional Clinical Counselor (LPCC), SFSU clinical counselor faculty, and a close friend and long-time colleague of Ritter's. "He was always there to help lift everybody else up, too."
Castillo knew Ritter for nearly two decades, first meeting him while interning at SFSU's Counseling & Psychological Services.
They later worked together in Prevention Education Programs for over 10 years and became close friends.
Friends who shared a love for the water.
As Castillo tells it, when she first started working at SFSU, she would go to the pool and saw a familiar face: Ritter.
"I realized we shared a love for swimming when I often saw Michael at the pool at SF State," said Castillo.
One day, she invited him to swim in the ocean with her at Aquatic Park, and over the past nine years, the two began open water swimming with other community activists in the San Franscisco Bay. Their spots: primarily Aquatic Park and China Beach.
His advocacy for undocumented students started as Castillo began setting her sights on swimming from Alcatraz. She later got an idea with other colleagues to start a scholarship for undocumented students.
The idea: swim from Alcatraz, where she has been training, and make it a fundraiser. Ritter didn't swim that first year but saw the work his friend Castillo put into raising awareness and funds for scholarships for SFSU undocumented students and was sold on participating the next year.
This cause meant more than their love for swimming.
According to Castillo, both had a student who was undocumented and who interned for them. They didn't know his status, at first, but realized they couldn't pay him because he didn't have proper documentation to get paid through the university.
"We thought how unfair that was," said Castillo.
Year two, they had their student on their mind. Even their swim pod of activists became known as the Dream Team, because of their active support of Dreamers and undocumented immigrant communities, sometimes swimming in the open water two to three times a week, all year long.
Over the years, Castillo and Ritter swam the open seas. St. Croix, La Jolla, Monterey, and Santa Cruz come to mind for her. They traveled together with their partners. They had even more upcoming plans to swim.
"We're like, 'let's go to Greece!'" said Castillo. "We had all these plans and things that we were going to do."
Castillo and Ritter became more conscious and aware of the struggles for their undocumented students. At this time, Castillo says, there wasn't The Dream Act or DACA, and most students couldn't qualify for any financial aid.
Their advocacy continued, all the way through this year. This would have been their eighth swim together to raise funds for undocumented students; it's the ninth year of this event. Sadly, Ritter passed away while practicing for this cause.
This year, Castillo and others swam. For their undocumented students. For Ritter.
They have raised more than $14,000, a cause more than 150 people and groups donated to honor Ritter's commitment to his students.
"As we've been doing different events and memorials, everyone could speak to his smile and how much that would mean. Even when people were having a hard time, he would sit with you and you were the most important person at that time," remembers Castillo. "You just instantly felt a closeness to him that he could give and make you feel really important."
A counselor with a heart of gold.
One of Ritter's other passions was activism.
Tully says Ritter advocated for CFA values, quality accessible public education for our students, fighting for the most vulnerable, fighting back against the corporate university, fighting for justice in broadest sense of the term.
"Michael's justice wasn't about any one group; it was about lifting everyone, and he walked the walk. Big time," said Tully.
Even after retirement in recent years, Ritter would be seen advocating for Black lives, Palestinian rights, the LGBTQIA+ community, and undocumented students.
"Michael always showed up for important struggles and advocated for both students and faculty, as evidenced by his work not only with the SFSU CFA, but also the CFA Counselors Committee and serving on the Academic Senate CSU," said Chen.
How does Ritter's legacy of counseling, care, union, friendship, family, and love continue?